New Details On Dreams For PS4 From Today's Media Molecule Twitch Stream
New details on dreams on PS4 were revealed from today's Media Molecule live stream. They've teased us quite a bit until we get to Paris Games Week. Dreams on PS4 is a far left type of game that is evolving in great magnitude. As most of you now know, Dreams is not a movie maker, even though you can make movies, you can make gameplay, even by building movies into gameplay. Let's take a further look into that first dream we've seen of the polar bear.
The Polar bear dream was actually one long dreamscape by someone. Apparently named "beardream001.mp4", all of it was captured using share functionality. Even if there were no native editor specifically made for Dreams, Sony's PS4 has Share Factory so one could stream together clips on that app. In case you're wondering, the music in this case was not made with the Dreams (Bubble Bath) Engine but more on that will be at PGW. So does this dream even having a meaning?
This dream was inspired and created for a Media Molecule developers daughter. It was for her birthday. The dream took 1 day to create with all of it's detail in Snow particles, lighting and animation. The Dreams you create in Dreams for PS4 will allow you to be very detailed if you choose, down to individual pixels.
So all of you Little Big Planet fans out there are probably wondering about 'temperature gauges' as far as how big dreams can be. Dreams will be able to be linked together in the event of a 'level overload'. It's very amazing part of the game that works out nicely.
When you get your hands on Dreams once it releases, it will start off smaller than it will be in terms of the games size. There's going to be a story in Dreams so that should help get you easily familiar with the game right away. Dreams will be evolving as you progress.
In fact after the E3 showing, they split the whole company with part working on the E3 build, and the rest piecing together other things that we being introduced. Dreams isn't trying to be all of everything like Maya, Unity, etc., but cover all the ways you can express yourself. Alex from Mm told us "It's still a work in progress. People will look back at Paris Games Week will go HA, that was minimal!".
Media Molecule showed us some cool Dream concept sculptures from their Twitch Livestream. These were absolutely fantastic, and if the small team of them made all of this, imagine what gamers will make when Dreams released on PS4!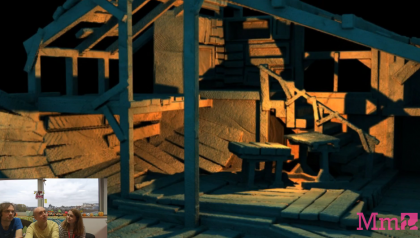 Dreams is much more than Little Big Planet. It'll be easier to mash up and create anything. We'll have more at Paris Games Week on Dreams for PlayStation 4. Keep updated with Dreams here at ImpSpace and on our social pages.