PlayStation Dreams Details from Media Molecule's Livestream
When Media Molecule started their PlayStation Dreams stream, we felt like we all were taking a tour of Willy Wonka and The Chocolate factory! It was such a fantastic way to start the stream by leaving us outside the studio's front door. We started a short walkthrough around the Media Molecule studio. We were greeted with the audio guys, designers, concept artist and more. Next we started getting into new details on the new PlayStation 4 IP.
Media molecule stated the game should look like said concept art. One of the premise's of the game is attitude. Media Molecule wanted to make their tools as attractive as possible. Dreams is a game were you don't feel like you are just creating, focus is on having fun. When we were watching the stream of artwork up close, Bob Ross automatically came to mind. It's entertaining to watch Bob Ross, but it's got that Media Molecule element in it in which you aren't just creating, but there is more such as creating games, and even music.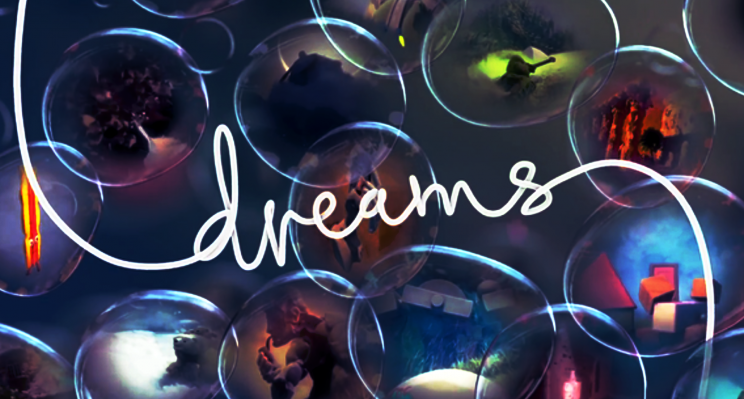 New build footage wasn't shown, only the E3 build was shown. Looking at the main piano dream, we learned that its better to paint/create big impressions first. Looking at concept art using a tree as an example, leaves were not individually painted first, the overall impression was made primarily. Dream workshops are going to be something that will make your dreams even better, not that you have to be an expert to enjoy!
The idea of the piano player scene was loose so that collaboration was easy for the dream. Everyones style can be signature in PlayStation Dreams. You can edit a scene live and from what we saw in the Twitch stream is that the piano scene is a really simple scene. The forest background was all one simple shape, and so was the block of grass. Sharpness of materials help lead the focus in the scene to the piano player. People with very specific talents can help piece together dreams with each other, making this title one of the best collaborative titles ever made.
Physics are covered in Dreams and can be a simple or even complex way to add so much more to your dreams. The stream was near 30 minutes long and Media Molecule was still a bit tight lipped on Dreams as they are saving stuff for Paris Games Week. We'll leave you with a few cool things we noted and a short Q&A.
Q: Are you the new tea lady? (Alex Evans holding a little teapot)
A: I am the new tea lady!
Q: Does the PS4 have the power to support your vision?
A: Yes it does! We've got a lot of value just being so focused on PlayStation
Q: What are we gonna see at Paris Games Week?
A: Lots of cool stuff a Paris Games Week? We're gonna try and show more of the things you've been asking about. Many of the questions you've been asking since E3!
Q: What is the Dreams Engine Called?
A: Don't know, we need to name it! Come on Twitch let's come up with a name.
Cool things noted from the Livestream:
From the concept art wall, we saw cool artwork like batman and more.
A user in the Twitch.tv chat stated they should sell PlayStation Dreams art prints. This is one of the best ideas for this game and many other users agreed.
Audio programmer, Bog Dan, was working on making the music tools and has more to show at Paris Games Week on that hopefully.
Media Molecule's Livestream was fantastic to be a part of. Stay tuned for Paris Games Week to see more revealed on PlayStation Dreams. Media Molecule will have more Dev Diary's on the way to make sure you are keeping up with them @mediamolecule and on their official Facebook page. PlayStation4Dreams will continue to cover more PlayStation Dreams news and soon display and work with the communities dreams!. Follow our social links to stay updated!