This Zombie Mummy In Dreams Has Us Thinking About Animation
Mike Pang at Media Molecule recently created this zombie mummy in Dreams PS4, and its got good craftsmanship! Dead center of the snapshot you can see it get it's Thriller dance on. The far right depiction of this new Dreams Ps4 character is either of it chasing or running way. It's a bit hard to tell the emotions of a mummy or zombie when it has a Mona Lisa type mouth pose.
Mummy In Dreams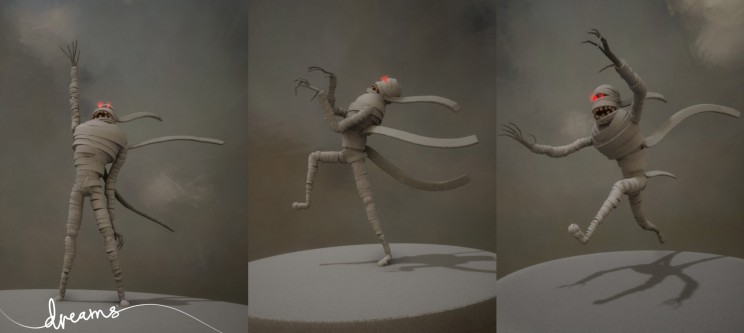 Things continue to be tweaked and enhanced especially in this stage of Dreams' development cycle. Animations are one of which we've seen a tease of. If logic can be stored in a Dreams bubble, it should work the same for characters with animation right? In the E3 demo, we've seen a collected bubble enable the player to place down a house, which had a dream door portal. So we know the concept works in a way.
There could be instances where you like a characters animation cycle but want it on your own model. So in this case, if this zombie mummy has a killer chase animation but you want it on your bear character, you could copy over the animation. It's an interesting idea and perhaps gamers would find it very useful if implemented into the game. Maybe it could be an element in a story where a character 'gets their powers back' after picking up the logic in an item.
By the way, the resemblance in the style of the zombie mummy can relate to Hotel Transylvania 2. Check out a video clip from the movie below:
Let us know what you think of the character and the idea in general. There's more on Dreams PS4 to come. We'll keep you posted here at ImpSpace. Don't forget to check out the new Dreams PS4 events coming up!