Ingenious Methods of DreamShaping During The Kareem Dreams Stream
After a first time introduction from the new Media Molecule community manager, Tom, the Kareem Dreams Stream kicked off. It was also announced that Dreams monthly livestreams are back. There are less than ten livestreams left before DreamsPS4 releases and this current build is the closest to the finished product we'll see. Now we go into some of the tools and new info revealed as you get a glimpse down the rabbit hole from this month's new Dreams livestream.
The Kareem Dreams stream opens with ART, the main character of the DreamsPS4 story. Walking cycles have improved since the last we saw in past livestreams from Mm. There are a variety of different parameters to customize your character with and to tweak even further in Dreams. In this DreamsPS4 snapshot above you can see object/element details for ART. In fact you can see more than one person has worked on this character within a github type commit setup. These patches that you can push out on anything can be worked on by multiple people which means groups are a thing in Dreams. You could have your ImpSpace Dreams group, a logic group, etc. You can be OCC about everything in Dreams (organized, categorized, and customized) to your imp's content!
Kareem quickly starts shaping up an environment by using other assets from the dreamiverse. While growing up you might have been taught something about not taking shortcuts, however in Dreams, shortcuts are built in a way where it is encouraged by making the flow and creation process more productive. These are the shortcuts Anton and Kareem were mentioning before akin to iPad gestures from Apple.
Optimization
Many new Dreams assets will come from grouping objects that have been copied and pasted quickly. Remember that the original object/element maker will be shown even if the work is a derivative from it. You'll also find it handy when placing certain objects into the world, they will have a resource usage shown as percentages. So the joints of an object for example at this early part of the stream were shown at 6%. That is to help plan for your Dreams content in regards to the overall thermometer that level has. This also answers the question of what got asked in the Dreams Discord channel if someone were to not know if an object was really buggy or resource heavy. You can now see the toll it takes on the level more clearly like your most hated or loved browser such as Firefox or Chrome in a process manager!
More Tools!
The biggest impression of working with Dreams is the immediate effect of the tools. There are a few workable 3D programs that render in real-time but Dreams takes it's features and is leading the industry with what its bringing to the table. When you get your hands on Dreams and start dreamshaping, go for basic at first while you experiment with each tool one by one for each section. Kareem shows the sculpting and morphing effects of his scenic foundation. You soon realize even more how useful these tools will be. Within choosing swatches and mixing up colors in the mixer, an organic or wildly imagined technique of coloring and shaping is achieved. This type of coloring can be seen in some natural rock formations on earth.
The architectural design in this stream seems to have some Frank Lloyd Wright inspiration in it. Frank's buildings would blend in well with nature and you can almost actually see a similar layout when compared with one of his buildings shown here. Dreams is very much in line with Wright's philosophy of being in harmony with the surrounding environment. There is also a feature where you can explode the scene in a list view and work on things object by object. This is a great way of organization combined with monitoring object thermometer levels. The effect itself is pretty cool and should inspire you for all kinds of dreamy-like scenes.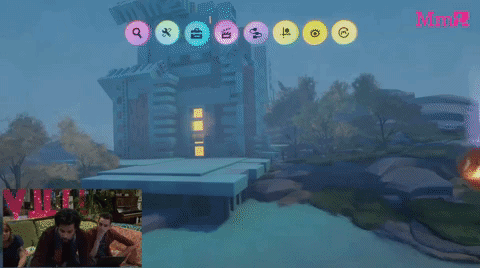 Towards the end of the Kareem Dreams livestream, we got a closer look at more effects. There are many great snazzy tools to spice up your creations when it comes to things like color-grading and adding particles to use as rain for instance. When messing with these parameters an in-game award notification came up, they're called "Dreamstones". "Dreamstone collected…Dreamstone Unlocked…Making It Happen [Rank 3]" are the words shown. Your player rank increases by these actions depending on what you're working on, which could level up your DreamsPS4 persona in this regard.
Overall everyone was excited to see Kareem back at it again like a boss. Later on this year we'll get a closer look in-depth with the logic system in dreams. For more news and coverage on dreams follow ImpSpace on Twitter, YouTube, and join the Dreams Discord server. Today is the last day to vote for your 2 favorite game concepts submitted for the Dreams Community Collab Project! Mark your vote in the #announcements room and we'll see which entry wins the popular vote. There's more exciting news to share a few months from now 🙂