DreamsPS4 gets new TGS 2018 Footage for Japan's version titled Dreams Universe
The newest IP from Media Molecule, "Dreams", was shown at the Tokyo Game Show but with a special revealed name for Japan's release titled "Dreams Universe". The livestream mainly went over a brief view of a few games made at Mm HQ just as shown at PAX West2018 but also created something new just for TGS2018.
The restless Abbie Heppe joins the atmosphere of the TGS 2018 show-floor to demo DreamsPS4 (known as Dreams Universe in Japan). Displayed on the giant screen was TGS2018, as in you were watching the show-floor from the show-floor entirely made in Dreams! Our robotic orange controlled by yet another adorable imp was soon to be greeted by Astrobot from the Playroom! Dreams Universe sure has a lot of cool robotic pals being shown recently.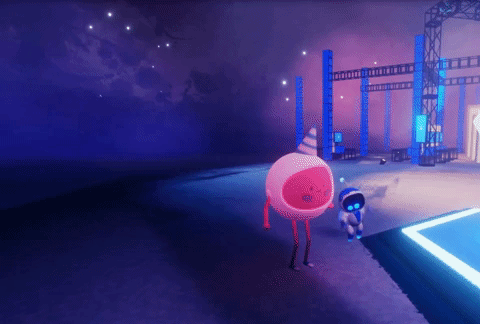 The TGS2018 level was quickly decorated and made into a race. The last time we've seen one was in fact during the Summer Game Jam stream which was fantastic. This version however showed more of the follow camera movement and how it acts up close. It's pretty much just how the LBP camera operates on default but since the camera was was closer to the characters, it had a faster focus when a player would appear out of frame.
A portion of the story from Dreams Universe was also shown using 2 player co-op. It was nice to have Dreams at TGS 2018 and we are looking forward to the show at EGX 2018 later this week Sept. 23rd 2pm UK Time. Be sure to follow ImpSpace on Twitter, YouTube, and join in or create a Dreams group before the beta arrives soon!